China-Russia Expo kicks off in Yekaterinburg
The fifth China-Russia Expo is currently taking place in the city of Yekaterinburg, Russia. It opened on July 9 and will continue until July 12.
The China-Russia Expo is a platform that promotes the signing of agreements between Russian and Chinese firms, as well as promoting ties between the two countries.
This is the second time that the event has been held in Russia, with the first two and the fourth taking place in the city of Harbin, Heilongjiang province.
This year's expo is themed around "new starting point, new opportunities and new future".
The exhibition area of the expo covers 8,500 square meters, with China's exhibition area accounting for 5,518 square meters.
The expo showcases the latest products and technological innovations in equipment manufacturing, consumer goods, resource development, agriculture, forestry, engineering, finance, logistics, power, and education.
In addition, this year's expo is hosting 28 commercial events, including China-Russia forums, China-Russia conferences on transforming innovations, meetings, and exchanges in fields such as electromechanical production, technical standards, mining, finance, customs cooperation and intellectual property rights.
A total of 80 businesses from Heilongjiang are representing the province at the expo, mainly promoting products in the sectors of equipment manufacturing, IT, trade services, and chemical engineering.
Compared with previous years, more private firms are represented at this year's expo, as opposed to State-owned enterprises in previous years.
The expo is being jointly hosted by the Chinese Ministry of Commerce, the Russian Ministry of Economic Development, and Russia's Ministry of Industry and Trade, as well as the provincial government of Heilongjiang.
The fifth China-Russia Expo takes place in the city of Yekaterinburg, Russia on July 9. [Photo/dbw.cn]
The Heilongjiang exhibition area at the fifth China-Russia Expo. [Photo/dbw.cn]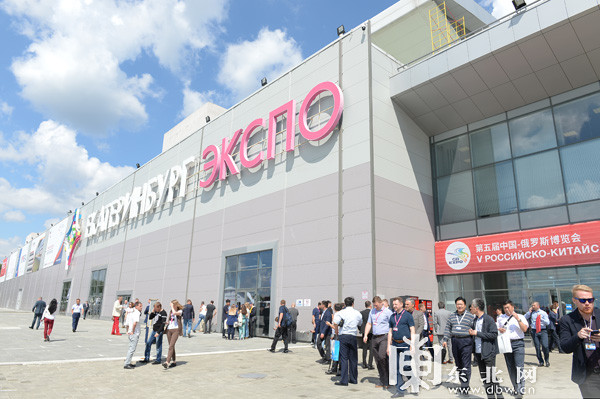 The fifth China-Russia Expo kicks off in the city of Yekaterinburg, Russia on July 9. [Photo/dbw.cn]