Harbin ranks among top three summer tourism destinations
Harbin has been voted amongst the top three summer tourism destinations after Beijing and Dalian, according to a survey report on the willingness of urban and rural residents to travel during the third quarter of 2018, as launched by the China Tourism Research Institute.
Harbin is a popular destination due to its pleasant summer temperature and plentiful tourist attractions, followed by Qinhuangdao, Changchun, Shanghai, Hangzhou, Sanya, Shenyang and Jilin.
Located southwest of the Northeast China's Heilongjiang province, Harbin is at the same latitude as Montreal, with its summer temperatures usually ranging from 19 Celsius to 23 Celsius, providing a pleasant climate for tourists want to avoid summer heat in the major areas of China.
Meanwhile, Harbin possesses a strong and exotic flavor, combining both the history and the eastern and western cultures of its northern ethnic groups, which have helped Harbin earn the nicknames "Ice City," "Eastern Moscow" and "Eastern Paris."
Additionally, Harbin has rich scenic spots involving wetland parks, forest parks, western-style architecture, remains of the old times, amusement parks, spring resorts, beautiful river landscapes and various art halls.
St. Sophia Church [Photo/VCG]
Volga Manor is captured in summer. [Photo/VCG]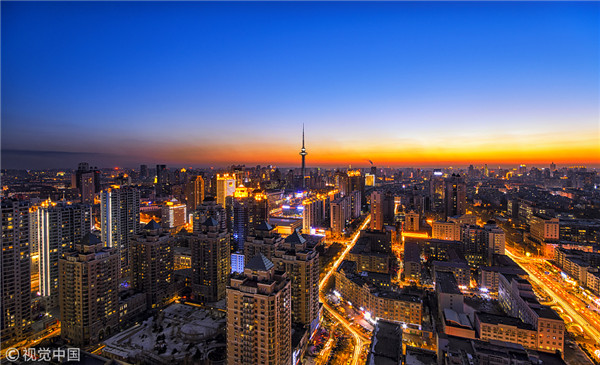 Night view of Harbin. [Photo/VCG]