Ice postbox enters service in Harbin
Amazing! A huge ice postbox has been completed and was put into service at the park of Harbin Ice and Snow World in NE China's Heilongjiang province Tuesday.
2018 postcards, postmarked "Harbin Ice and Snow World", were put into the postbox and then delivered all over the world.
The postbox, the largest of its kind in the world, also plays an important role in expressing the enthusiasm of the citizens in the city.
A huge ice postbox is completed and put into service at the park of Harbin Ice and Snow World in NE China's Heilongjiang province, Jan 23, 2018. [Photo provided to chinadaily.com.cn]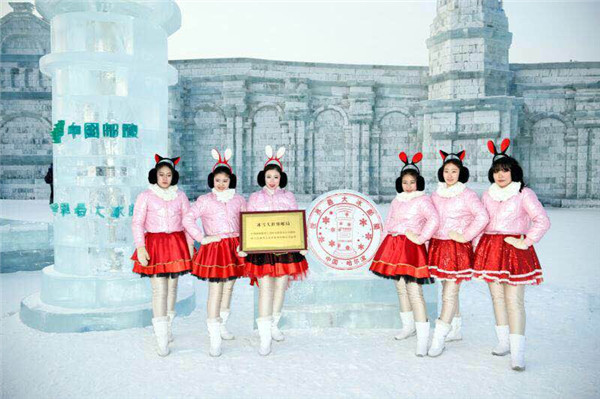 A huge ice postbox is completed and put into service at the park of Harbin Ice and Snow World in NE China's Heilongjiang province, Jan 23, 2018. [Photo provided to chinadaily.com.cn]
A huge ice postbox is completed and put into service at the park of Harbin Ice and Snow World in NE China's Heilongjiang province, Jan 23, 2018. [Photo provided to chinadaily.com.cn]
A huge ice postbox is completed and put into service at the park of Harbin Ice and Snow World in NE China's Heilongjiang province, Jan 23, 2018. [Photo provided to chinadaily.com.cn]
A huge ice postbox is completed and put into service at the park of Harbin Ice and Snow World in NE China's Heilongjiang province, Jan 23, 2018. [Photo provided to chinadaily.com.cn]