Oktoberfest proves popular in Harbin
The Third Paulaner Harbin Oktoberfest Beer Festival took place at Harbin Paulaner Brauhaus, Nangang district in Harbin, from Sept 15 to 17.
The festival enabled beer lovers to enjoy authentic Bavarian beer brewed on-site, as well as delicious Bavarian cuisine.
Guests, together with their families and friends, immersed themselves in the Oktoberfest atmosphere by enjoying live music from a foreign band and traditional Bavarian dances.
All beers are brewed in accordance with the 1516 Bavarian Purity Law, ensuring the best taste and quality.
The brauhaus also provided daily food including a tuna weighing over 40 kilograms, together with specialty dishes such a whole leg of beef and pork knuckle.
During the festival, customers had the chance to win a luxury massage chair in a lucky draw activity.
As for people who missed out on the beer festival, Harbin Paulaner Brauhaus has now launched a 50 percent discount on its beer and barbecue food.
The brauhaus is an authentic Germany-style restaurant, providing traditional German beer and Bavarian cuisine.
The chef at Harbin Paulaner Brauhaus cuts into a giant tuna during the Third Paulaner Harbin Oktoberfest Beer festival held in Harbin from Sept 15 to 17. [Photo/Provided to China Daily]
A chef stands ready to carve a leg of roast beef for customers at Harbin Paulaner Brauhaus. [Photo/Provided to China Daily]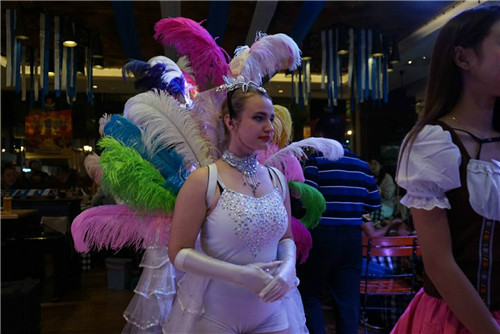 Performers prepare to dance at Harbin Paulaner Brauhaus during the Third Paulaner Harbin Oktoberfest Beer festival held in Harbin from Sept 15 to 17. [Photo/Provided to China Daily]