Countries seek technology cooperation at Harbin forum
A technology innovation forum involving countries along the 45th northern parallel took place in Harbin, capital city of Heilongjiang province on Oct 12.
Around 500 experts and scholars in the field of technology were invited, including those from China, Russia, Belarus, Ukraine, South Korea and Iran.
Scholars from Harbin Engineering University, Harbin Institute of Technology, National Academy of Sciences of Belarus and Heilongjiang Academy of Agricultural Sciences delivered speeches at the forum.
Topics on technology cooperation, technology development in the cold region, coordinated innovative development of high-tech industrial parks were discussed.
Additionally, countries along the 45th northern parallel agreed to strengthen cooperation on sharing information, academic exchanges, exchanging technology and financing.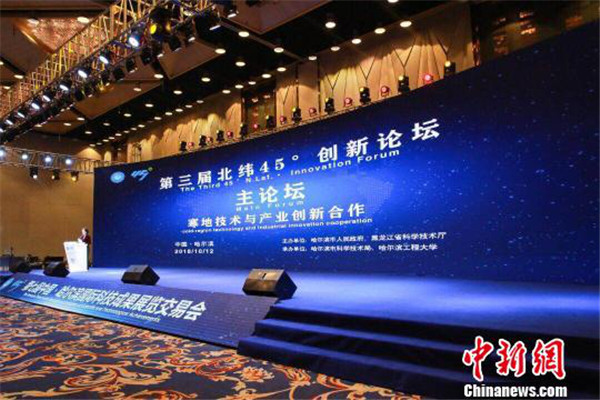 The third 45th Northern Parallel Innovation Forum takes place in Harbin, Heilongjiang province on Oct 12. [Photo/Chinanews.com]
An expert from Heilongjiang Academy of Agricultural Sciences delivers a speech at the third 45th Northern Parallel Innovation Forum in Harbin, Heilongjiang province on Oct 12. [Photo/Chinanews.com]
A speech on supply side reform in agriculture is delivered at the third 45th Northern Parallel Innovation Forum in Harbin, Heilongjiang province on Oct 12. [Photo/Chinanews.com]