Harbin will launch an environmental protection plan to prevent further damage to the area's ecosystem and improve the surrounding environment.

You may know of Harbin's ice lanterns and ice engraving, famous all over the word. However, do you know about the ice scripture carvers?
It is the dream for many young people to open a store on Central Avenue in Harbin. Two additional young people also believe the attractive location is a good place to start their own business.
Farmers harvesting rice in Tonghe county, eastern Harbin, Heilongjinag province. The county has 93,433 hectares of rice field. The finished product can be sold at 10 yuan per kilogram.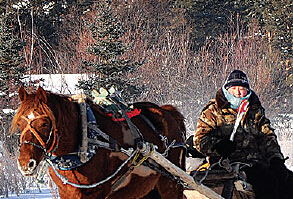 Mohe, a county in Heilongjiang province at the northern tip of China, is famous for Beiji Village, known as China's "Arctic Village".