Elderly people from South China are increasingly fleeing to northern Heilongjiang province to escape the punishing summer heat.

Harbin is taking further measures to reduce air pollution from coal fires this winter by increasing spot checks on vehicles transporting coal into the city.
A paper-cut piece titled Chinese Women's Volleyball Team at Olympics by folk artist Zhao Daili, from Harbin, Heilongjiang province, Sept 21, 2016.
Farmers harvesting rice in Tonghe county, eastern Harbin, Heilongjinag province. The county has 93,433 hectares of rice field. The finished product can be sold at 10 yuan per kilogram.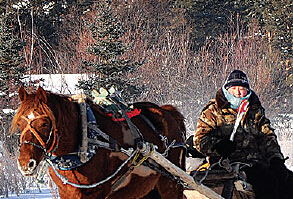 Mohe, a county in Heilongjiang province at the northern tip of China, is famous for Beiji Village, known as China's "Arctic Village".