International competitors test taekwondo skills in Harbin
The 2019 Heilongjiang Youth Taekwondo Competition, the largest of its type in Heilongjiang, ran from July 26 to 28 in Harbin, in Northeast China's Heilongjiang province.
The competition, a platform to boost sports and culture exchanges among young people, attracted the participation of more than 2,000 players from China, the US and Cambodia.
Players were divided into seven groups to compete for medals in 380 competition levels.
The event was sponsored by the Heilongjiang Sports Federation and organized by the Heilongjiang Province Heavy Sports Training and Management Center, the Heilongjiang Provincial Social Sports Guidance and the Foreign Exchange Center and Heilongjiang Youth Sports Association.
A taekwondo demonstration takes place at the opening ceremony of the 2019 Heilongjiang Youth Taekwondo Competition on July 26. [Photo/chinanews.com]
A dragon dance is staged at the opening ceremony of the 2019 Heilongjiang Youth Taekwondo Competition. [Photo/chinanews.com]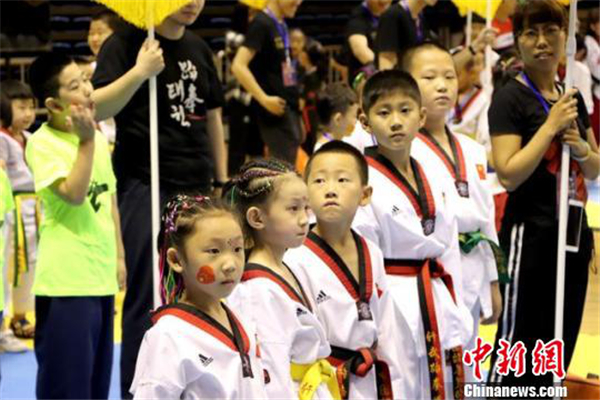 Young participants prepare themselves mentally for the taekwondo tournament. [Photo/chinanews.com]