Harbin promotes organic food in Zhengzhou
Harbin in Heilongjiang province held an organic food promotion fair in Central China's Henan province from Sept 1 to 3, with deals valued at 75.9 million yuan ($11.58 million) signed at the opening ceremony.
Sponsored by Harbin commerce bureau, the promotion fair aimed to promote organic food in Harbin to the market in Central China, as well as advocating food safety.
The fair set 105 booths in seven exhibition areas. Over 1,500 products in the categories of grains and oil, vegetables, beverages and wild forest products were displayed at the fair.
Harbin commerce bureau signed agreements with Henan Broadcasting Group to cooperate in promoting Harbin's organic food industry at the opening ceremony of the promotion fair held in Zhengzhou on Sept 1. Harbin businesses also signed deals valued at 75.9 billion yuan with eight Henan businesses the same day, mainly involving rice, meat, canned products, oil, and frozen corn.
Officials and business representatives from Harbin and Henan province pose for a group photo at the opening ceremony of Harbin organic food promotion fair held in Zhengzhou on Sept 1. [Photo/cnr.cn]
Black fungus produced in Harbin on display at Harbin organic food promotion fair held in Zhengzhou from Sept 1 to 3. [Photo/cnr.cn]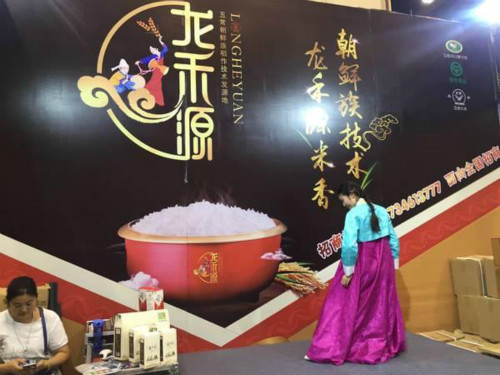 An ethnic Korean performer dances at Harbin organic food promotion fair on Sept 1. [Photo/cnr.cn]