Heilongjiang face mask materials producer speeds up output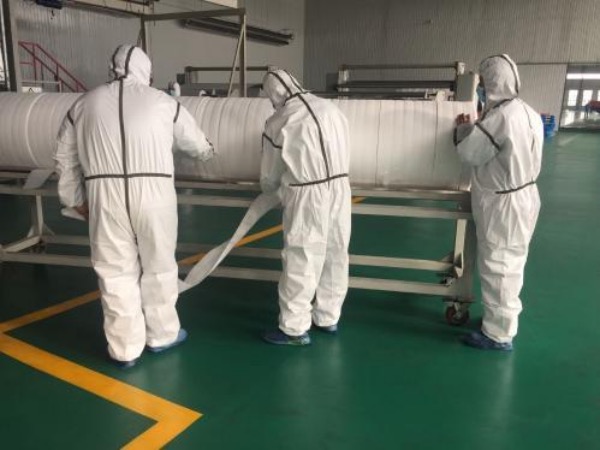 Employees of Heilongjiang Anruijia New Material Technology Development Co work on the meltblown cloth production lines. [Photo/MY399.COM]
China's northernmost Heilongjiang province is facing a shortage of face masks on the front line of the fight against the novel coronavirus, according to local officials.
But instead of buying masks internationally, Heilongjiang's only producer of meltblown cloth – a high-tech non-woven layer at the center of each face mask – has now established its own production lines to meet the massive demand for mask production.
Meltblown cloth has good filterability, barrier properties, heat retention and adsorption and is a necessary raw material for filter masks.
On Feb 17, new meltblown production lines started rolling in the workshop of Heilongjiang Anruijia New Material Technology Development Co.

Employees of Heilongjiang Anruijia New Material Technology Development Co work on the meltblown cloth production lines. [Photo/MY399.COM]
Zhao Wenlong, chairman of the Heilongjiang company, said his company conducted production equipment debugging on Feb 15 and began production on Feb 17. For more than 20 days, the company has been producing at full capacity.
It is now capable of producing 4.36 metric tons of meltblown cloth per day, which provides raw materials for 4 million medical surgical masks.
The only meltblown cloth manufacturer in the province, the filtration efficiency of meltblown cloth produced by the company has reached 94 percent, which effectively meets the standard of medical surgical masks.
For its next step, the company plans to continue to increase the production capacity of meltblown cloth. A spokesman said it will also develop materials for the production of protective clothing, quarantine clothing and medical surgical clothing.
A worker adjusts a roll on a meltblown cloth production line. [Photo/MY399.COM]