Renowned play Liliom to be staged in Harbin
The powerful play Liliom — penned by Hungarian playwright Ferenc Molnar, which later become the inspiration for Broadway musical hit Carousel – will be directed by French director Jean Bellorini and staged in the Harbin Grand Theater from April 5 to 6, according to a report by the Harbin Daily.
The play takes place partly in Budapest, Hungary, and partly in Purgatory, before the hero's final entry into Heaven. The story concerns Liliom, a tough and cocky carousel barker who falls in love with Julie, a young woman who works as a maid. It tells the story of Liliom's complex thoughts and struggles during the course of a life that delights in a romantic relationship and birth of children, but then encounters unemployment, involvement in robbery, before suicide and eventual entrance into heaven.
Director Jean Bellorini arrived in Harbin on March 26 to attend cultural exchange activities with local university students.
A tender embrace during a performance of the play. [Photo/people.cn]
Actors confront each other, in a tense moment of dialogue. [Photo/people.cn]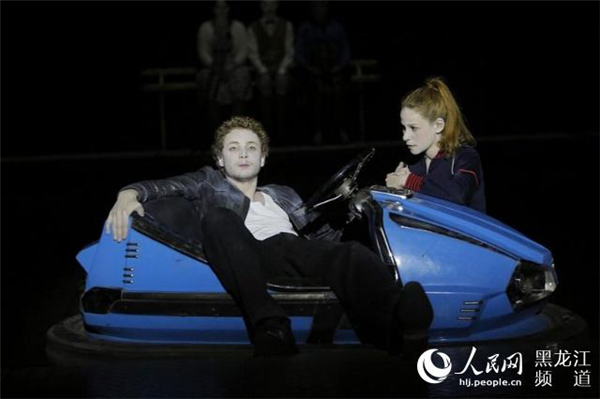 A reflective scene from the play. [Photo/people.cn]
The main character leads a turbulent life, before dying and eventually entering heaven. [Photo/people.cn]