Schoenfeld string competition promotes Harbin fame as 'Music City'
The 2018 Schoenfeld International String Competition concluded in Harbin, capital city of Northeast China's Heilongjiang province on July 29, after a 10-day long competition in the "Music City".
As one of the important international events of the 34th China Harbin Summer Music Festival, the competition attracted 312 young concert performers from 26 countries and regions, seeing a year-on-year increase of 35.7 percent in the number of performers. Among which overseas performers accounted for 274, a year-on-year increase of 78.6 percent.
A total of 70 violinists, cellists, as well as chamber musicians in five teams, are qualified for this year's final competition. The final competitions of violin and cello were held from July 27 to 28; and the chamber competition was held on July 26.
The jury for the competition consists of prestigious musicians from 16 countries including Germany, France, Russia, Norway and China. World-renowned violinist Jean-Jacques Kantorow and cellist David Geringas were invited to act as chairmen of the jury.
The event aims to enrich the culture of music by recognizing and promoting highly gifted young musicians. It provides an opportunity for world-renowned musicians, scholars and experts from music academies and art troupes as well as music lovers to showcase their talents and exchange experiences. It's also a name card for Harbin to promote its frame of the "Music City" of China.
Schoenfeld International String Competition, comprising of violin, cello and chamber, was founded by the 93-year-old internationally renowned violinist Alice Schoenfeld and organized by the Schoenfeld International String Society. Once it was initiated, the competition was strongly supported by world-renowned artists such as conductor Zubin Mehta and pianist Christoph Eschenbach, as well as professionals from all over the world.
The first competition was held in Hong Kong in 2013.
By now the competition has become one of the world's most prestigious international music events, along with Tchaikovsky International Music Contest, International Chopin Piano Competition and Concorso internazionale di violino "Niccolò Paganini" (violin contest named after Italy's violinist Nicolo Paganini).
Harbin was chosen as the permanent host site of Schoenfeld International String Competition. This was announced at a press conference for the 2018 Harbin Schoenfeld International String Competition held in Harbin Conservatory of Music on June 5, 2018.
The competition was sponsored by the government of Harbin and Harbin Conservatory of Music.
France cellist Anne Gastinel performs a cello solo at the opening ceremony of the 2018 Schoenfeld International String Competition in Harbin and July 20. [Photo/Xinhua]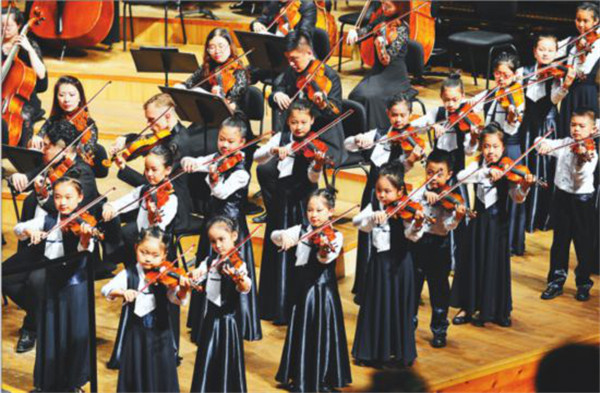 A string performance is staged at the opening ceremony of the 2018 Schoenfeld International String Competition in Harbin and July 20. [Photo/Xinhua]
A string performance is staged at the opening ceremony of the 2018 Schoenfeld International String Competition in Harbin and July 20. [Photo/dbw.cn]