Mandarin ducks fly back to Zhaolin Park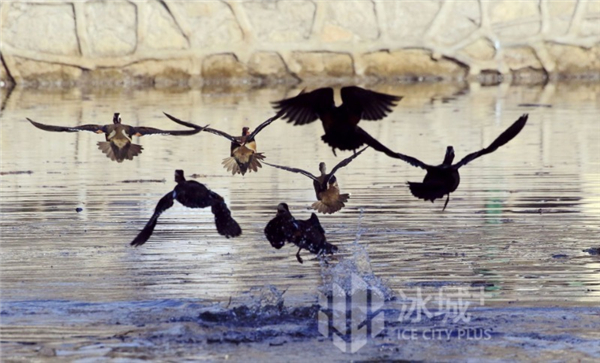 A flock of mandarin ducks flies over a lake in Zhaolin Park. [Photo/Ice City Plus]
A large flock of migratory yuanyang (mandarin ducks) was recently spotted in Zhaolin Park in Harbin, capital of China's northernmost Heilongjiang province.
Volunteer Che Chunhu said that the mandarin ducks had set out for Zhaolin Park on March 27. The artificial lake in the park was filled with water in advance to welcome the arrival of the migratory birds.
Mandarin ducks rest and feed in a lake in Zhaolin Park. [Photo/Ice City Plus]
Before April 3, only around 50 mandarin ducks had been spotted in the park, but on April 5 this number increased to 100.
To learn more about the breeding habits of mandarin ducks, video recording devices have been set up around the park to film the birds.
A pair of mandarin ducks rest in a lake in Zhaolin Park. [Photo/Ice City Plus]