Contracts reach $52.1 m in Harbin Agriculture Expo
With contracts reaching 320 million yuan ($52.1 million), the four-day long 2014 Harbin World Agriculture Expo rounded off at Harbin International Exhibition Center Stadium, Heilongjiang province, on Sept 14.
Local brands such as Churin Food, Haerxin and Hada Sausage, together with Italian Pizza, New Zealand ice-cream and Spanish wine were popular among visitors.
Statistically, the event received over 80 thousand visitors and more than 4500 people for professional business negotiations. About 60% of foreign products were sold out, and retail sales rose by 60 million yuan.
Themed "Intelligent agriculture, safe food", the expo also attracted top experts from around the world to discuss problems in agricultural technology and food safety during the event.
Experts from the Harbin Academy of Agricultural Sciences, Northeast Agricultural University and other research institutes in Harbin came to the forum for the first time and spoke about the features of local food brands to the world.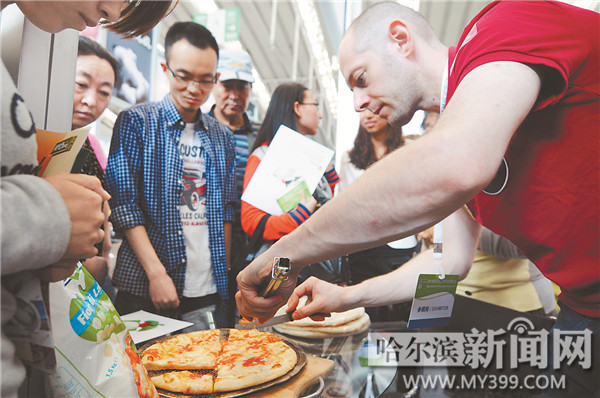 Visitors wait for fresh Italian pizza at the agriculture expo in Harbin International Exhibition Center Stadium.[Photo/my399.com]
Fast-made ice cream for visitors at the agricultural expo in Harbin International Exhibition Center Stadium. [Photo/my399.com]
German Spirits at the agricultural expo in Harbin International Exhibition Center Stadium.[Photo/my399.com]