Heilongjiang acrobatics troupe impresses Americans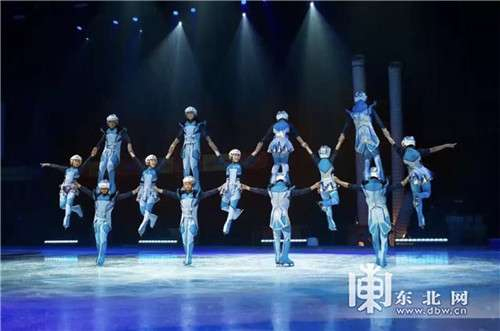 A performance on ice by Heilongjiang Acrobatics Troupe. [Photo/dbw.cn]
After a year away on tour, 24 performers from Heilongjiang Acrobatics Troupe returned to their hometown on May 23. The performers were proud of the popularity they earned while performing in the United States, where crowds enjoyed their excellent acrobatic skills.
From May 3, 2016 to May 23, 2017, the troupe gave 321 performances in 30 US cities. They travelled 25,000 kilometers across the country and performed before more than 3.5 million people.
During their tour, they performed with the world's top circus troupe, the Ringling Brothers Circus, and performed their original acrobatics on ice.
The Heilongjiang performers' acrobatics on ice is an art that integrates acrobatics, magic, figure skating and ice sports.
The ice acrobatics has been included in the key projects to be supported by the country and the province. Until now, the troupe has given more than 1,500 performances in China and around the world.
The revenue gained by the troupe has reached more than 10 million yuan ($1.45 million).
During the troupe's tour, many US media outlets covered their performances, which displayed the exquisite acrobatics of Heilongjiang as well as those of China in general. On ice, they performed such difficult feats as stilt walking, jumping through hoops and on trampolines.
"In the last performance, our team leader asked us to spare no effort to show our strength and the charm of Chinese acrobatics on ice," wrote acrobat Chen Xingui in his dairy. "After the performances ended, all audience members stood up and applauded for more than 10 minutes. And all our acrobats burst into tears."
Xue Jinsheng, the head of the troupe, said: "This overseas tour not only showed the unique charm of Chinese ice acrobatics, but also promoted Heilongjiang's ice and snow culture.
"Heilongjiang Acrobatics Troupe will improve more and more, and change foreign people's view of Chinese acrobatics. Our troupe will play a big role in enhancing the communication and integration of Chinese and foreign cultures."