Harbin-based firm produces generators for hydropower station
An aerial view of Baihetan Hydropower Station undergoing construction.[Photo/Xinhua]
A Harbin-based generator manufacturer is building eight 1000-MW generators which will be installed at the world's second-largest hydropower station.
Baihetan Hydropower Station, which is on the Jinsha River, the upper section of the Yangtze straddling Sichuan and Yunnan provinces, will be second only to the Three Gorges Dam in terms of total installed capacity when it finishes construction.
With a total installed capacity of 16 million kilowatts based on sixteen 1000-MW generators, the project is expected to generate more than 60 billion kilowatt hours of electricity per year. The main section of the hydropower station started construction on Aug 3.
Harbin Electrical Machinery Co, a pioneer generator producer founded in 1951, was chosen as the producer of eight 1000-MW generators and accessories for Baihetan Hydropower Station.
Harbin Electrical Machinery Co started the research of 1000-MW generators 10 years ago. During that period, the generator producer has overcome a number of global technical barriers, with its main achievements including solving the problems of generator stability, electromagnetism, insulation technology and damage from fatigue; which helped the Harbin producer win 49 domestic patent licenses, among which, 16 were patents for invention.
Currently, Harbin Electrical Machinery Co's generator technologies are among the most advanced on the market.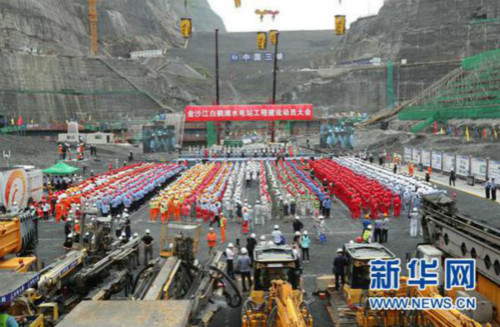 The foundation ceremony for Baihetan Hydropower Station is held on Aug 3. [Photo/Xinhua]