China becomes largest investor in Russian agricultural sector
China has become the largest investor in Russia's agricultural sector, thanks to investment in the Far East region of the country, surpassing Japan, South Korea and Thailand. It followed the 800,000-mu (53,333 hectares) land lease contract recently agreed by Harbin-based Dongjin Group with Russia's Khabarovsk.
In recent years, due to the opening-up policy of Russia's Far East region, investors neighboring Russia, have come to Russia to seek new markets.
Ouya Agriculture Development Group, a subsidiary of Dongjin Group, is a driving force in boosting agricultural cooperation with Russia's Far East.
Dongjin Group recently signed a new land lease agreement with two farms in Khabarovsk, expanding its rented area to 1 million mu, which will mainly be used to plant soybeans.
While, soybean planting is only a small part of the company's plan, Dongjin Group has set a goal to establish a China-Russia cross-border agricultural industrial chain, involving building a modern soybean planting demonstration area in Russia, as well as a soybean processing plant and a river port in Fuyuan, Heilongjiang province -- a city that connects Russia's Khabarovsk through the Heilong River.
The plan is scheduled to be carried out over a three-year period, with total investment of about 700 million yuan ($104.70 million).
Soybeans being farmed in Khabarovsk, Russia. [Photo/MY399.COM]
"Low cost is the biggest lure for our group in Russia," said Zhang Dajun, chairman of Dongjin Group.
The Far East has vast areas of unused arable land ideal for growing soybeans. The rent per mu in the region is around 10 yuan per year, while in Harbin, it is at least 500 yuan.
In addition, the monthly salary for a skilled agricultural worker in China is around 10,000 yuan, compared to between 3,000 and 4,000 yuan in Russia. Also, the price of diesel in Russia is only 60 percent of that in China.
Dongjin Group's soybean planting area in the Far East, which measures around 200,000 mu this year, is operated by only 20 people with the help of advanced modern agricultural machinery and a digital control platform, which significantly cuts the cost of labor, Wang Dajun said.
When the soybeans are harvested two years later, the total yield is estimated to be 150,000 tons, with an output value of about 1 billion yuan, Wang added.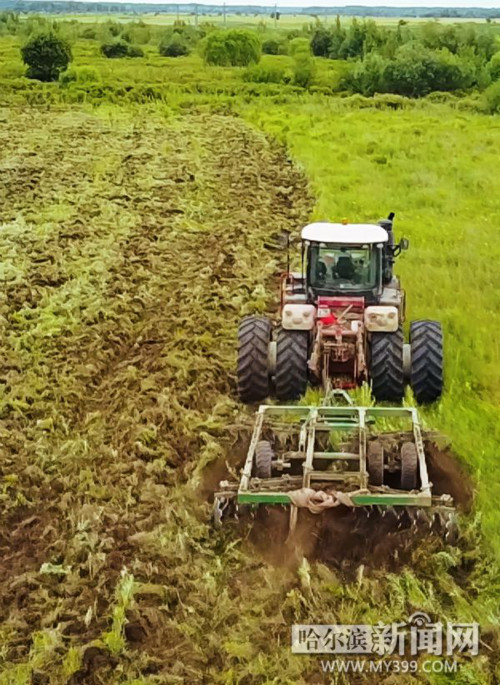 A tractor ploughs the soil on farmland affiliated to China's Dongjin Group in Khabarovsk, Russia. [Photo/MY399.COM]
The huge market potential for soybeans is another important factor affecting Dongjin Group's investment in the Far East.
Soybeans have been a staple of the Chinese diet since ancient times. Currently, China has a major soybean industry and the industry is set for continued growth. However, nearly 90 percent of the soybeans in the Chinese market are imported.
To reduce reliance on imports, Chinese firms are looking to expand into overseas markets to find new sources of the crop.
Russia has an ideal climate for growing soybeans, making soybeans produced there popular with consumers all around the world.
A tractor on farmland affiliated to China's Dongjin Group in Khabarovsk, Russia. [Photo/MY399.COM]