New flight links Singapore and Harbin
Scoot Airlines launched a flight linking Singapore and Harbin in Northeast China's Heilongjiang province on Dec 1.
Scoot is a budget airline affiliated to Singapore Airlines. The new Singapore-Harbin service is the 19th launched by Scoot Airlines to China, said Li Rongxin, general manager of Scoot Airlines in China.
The new route has been launched to satisfy increasing demand in both countries caused by increased tourism and trade.
Singapore is one of the most popular outbound tourism destinations in China, and Harbin enjoys an increasing reputation for ice and snow tourism.
The new flight will help passengers travel between the tropical area and the chilly northern city without having to transfer in Hong Kong, Beijing, Shanghai or Guangzhou, shortening the travel time from over 10 hours to around seven hours.
The newly-launched flights operate as TR154 and TR155, and run every Tuesday, Friday and Sunday. The return flights take place on the same days.
A Boeing 787 will depart from Singapore at 02:00, landing in Harbin at 08:50; and it will depart from Harbin after an 85-minute stop and arrive back in Singapore at 17: 50.
The launch of the new route will not only help passengers travel between the two places, but also serve as a channel for people living in Harbin to travel to other island destinations in Southeast Asia and Australia due to Singapore's developed flight network.
A Scoot Airlines Boeing 787 undergoes preparations for departure at Taiping International Airport in Harbin, Northeast China's Heilongjiang province on Dec 1. [Photo/Chinanews.com]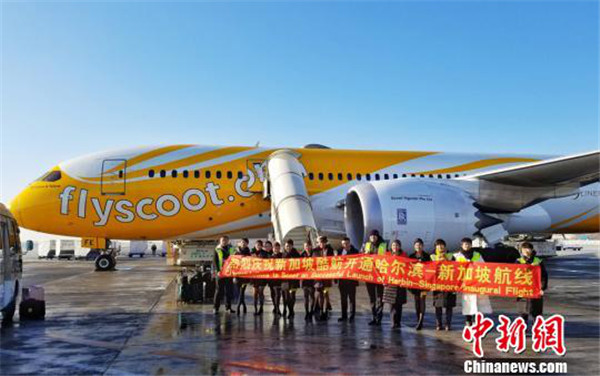 The crews of the newly-launched Singapore-Harbin flight celebrate the successful landing at Harbin Taiping International Airport on Dec 1.[Photo/Chinanews.com]
Passengers traveling from Singapore disembark at Harbin Taiping International Airport on Dec 1.[Photo/Chinanews.com]