Terminal T2 of Harbin airport starts operations
The Harbin-Fuzhou-Sanya flight, No FU6763, took off from Harbin Taiping International Airport at 6:10 am on April 30. It was the first flight leaving the airport since the newly-built terminal building was put into use.
The new T2 terminal, for domestic flights, handled 370 flights on the first day of operations.
Terminal T2 has a total of 80 check-in counters covering four areas and providing services for over 40 airlines. "A" Island, one of the four check-in areas, is specially designated for passengers of China Southern Airlines.
In addition to adding more check-in counters to improve operational efficiency, terminal T2 also opened seven extra security check channels compared with terminal T1, bringing the total number of channels to 22.
Terminal T2 is one of the airport's three expansion projects, which also include an airfield and ancillary facility. The expansion was necessary to satisfy the increasing demand for air transportation for both tourism and cargo.
By 2020, it is estimated that the airport will have an annual passenger throughput of 18 million people and an annual cargo throughput of 175,000 tons. Meanwhile, it can handle up to 6,053 passengers per hour at peak times.
When the whole expansion project is completed in 2019, the total area of the terminal buildings at Harbin airport will be 227,000 square meters, and there will be 73 gates.
Harbin airport will have two terminals -- T1 for international passengers and T2 for domestic ones.
Recently terminal T1 has been closed for reconstruction; all the international passengers used the international flight terminal building.
The first floor of the terminal has banks, restaurants and car rental businesses; and the second floor includes the departures area and free charging points for electrical items.
In addition, Wifi is available throughout the whole building.
As part of its expansion, Harbin airport will establish five new ground parking lots and one underground parking lot, with a total of 3,536 parking spaces.
Interior view of the newly-built t2 terminal building of Harbin Taiping International Airport. The terminal started to handle domestic flight passengers on April 30. [Photo/MY399.COM]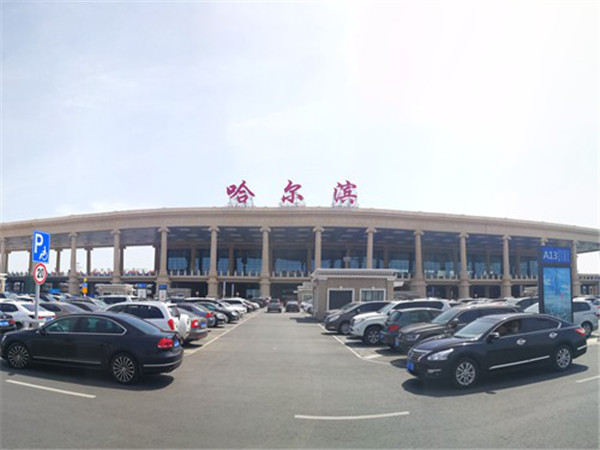 T2 terminal building of Harbin Taiping International Airport opened on April 30. [Photo/cnr.cn]
The underground parking lot of Harbin Taiping International Airport started operations on April 30. [Photo/cnr.cn]