New meeting center for China's 'Davos' debuts next February
The new meeting center currently under construction for the annual meeting of the China Entrepreneurs Forum – also widely known as China's 'Davos' -- is expected to be used for the first time next February.
The spectacular new center is located at the foot of Daguokui Mountain, in the remote northern Chinese town of Yabuli, the permanent site of the annual meeting. Construction of the center, which started in May last year, is expected to be finished by this December.
Officials said the facility has one underground floor and three floors above ground, covering 22,001 square meters. The main building stands 23.16 m tall.
The center was designed by Ma Yansong, a well-known architect from MAD Architectural Firm. The design of the building is based on the concept of tents. The special designs consider the interaction between indoors and outdoors. Critics say the shape is beautiful, balancing quality and artistry.

After completion, the expectation is that it will become a landmark in Heilongjiang province and meet the needs of the conference , business school, think tank and entrepreneurial museum; and will reflect the history of Chinese companies and enterprises in a positive way.
An artist's impression of the new cutting-edge meeting center for the annual meeting of the China Entrepreneurs Forum. [Photo/MY399.COM]
Construction workers swing into action at the site of the new meeting center of the annual meeting of the China Entrepreneurs Forum. [Photo/MY399.COM]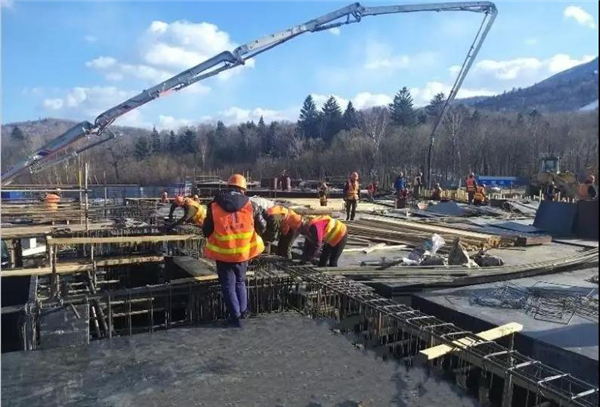 Cement is poured at the main building of the meeting center for the annual meeting of the China Entrepreneurs Forum, on May 1. [Photo/MY399.COM]