Harbin commodity imports exhibition center opens to public
Various kinds of imported commodities go on display in the new Harbin International Commodity Exhibition Center. [Photo/Harbin Commerce Bureau]
The Harbin International Commodity Exhibition Center, a platform displaying commodities imported from around 50 countries and regions, was opened on Aug 19 in Harbin -- capital city of China's northernmost Heilongjiang province -- according to local officials.
The new center is located in a two-floor building in the Chinese-Baroque Historic Block in Harbin's Daowai district, with a total exhibition area of 4,100 square meters.
The exhibits cover more than 2,000 products in six main categories: food, medical care and health care products, sports equipment and sporting goods, intelligent daily consumer goods, daily necessities for the elderly and infants, jewelry and jade, as well as other specialty products.
Staff open the doors for business at the opening ceremony of the Harbin International Commodity Exhibition Center on Aug 19. [Photo/Harbin Commerce Bureau]
A coffee room and a tea house have also been set up at the center for people to take a break during their visit.
Officials said that all the items had also been exhibited at the annual China International Import Expo.
They said the new center makes it easy for Harbin residents to buy high-quality international goods without going abroad.
Officials also said it is a facility that will help encourage Harbin to expand its opening to the outside world, boost Harbin's international influence and lead to more economic and trade exchanges and cooperation with countries around the world.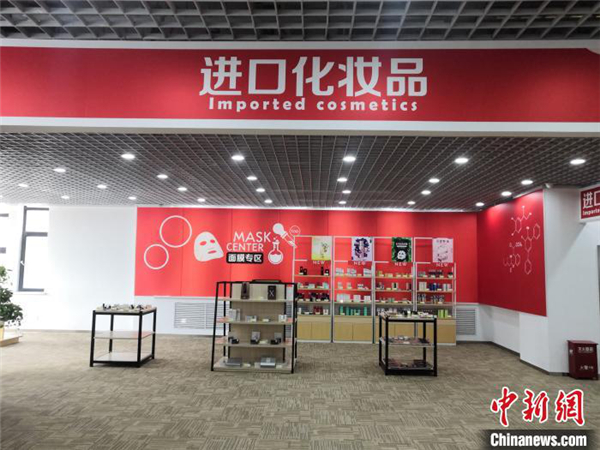 A brightly colored imported cosmetics area lures visitors to the newly opened Harbin International Commodity Exhibition Center. [Photo/Harbin Commerce Bureau]