How scenic sites protect visitors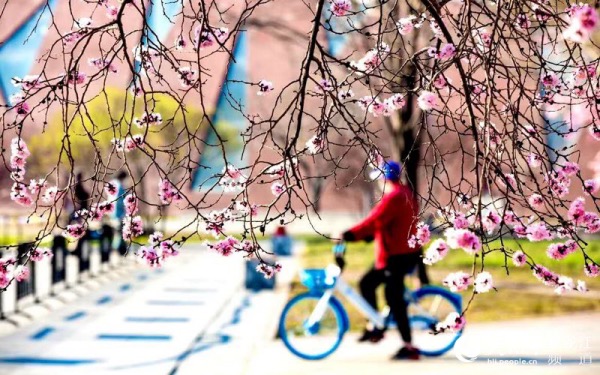 Vibrant spring scenery is attracting tourists to go sightseeing. [Photo/people.cn]
As tourism increased during the May Day holidays, held from May 1 to 5 this year, major scenic spots in Harbin – capital of Northeast China's Heilongjiang province – rolled out strict measures to prevent and control the novel coronavirus outbreak.
The measures involved passenger flow controls, body temperature tests, health code scanning, disinfections and ventilation and measures to avoid tourist gatherings.
Harbin tourism bureau officials said that A-level tourist attractions in Harbin were partly opened during the holidays, while all indoor scenic spots were temporarily closed.
Officials added that tourists were required to make online ticket reservations through the "Fun Longjiang" management system in advance.

The magical glow of sunset is reflected on the water. [photo/people.cn]
Meanwhile, the opened attractions adopted a time-scheduled and interval method to regulate the numbers of tourists entering in an orderly manner.
When the numbers of visitors reach 30 percent of the attraction's maximum capacity, new visitors had to wait outside for other time slots.
Tourists were also required to show their health code and receive a body temperature check before entering the scenic areas and wear a mask at all times during the visit.
In addition, all scenic areas formulated emergency plans, equipping themselves with adequate anti-epidemic materials such as temperature measuring guns, disinfectants and masks, as well as strengthening patrols of entrances and exits.
Special guides were also added to help elderly tourists complete ticket and health condition checks.

Colorful flowers are now in full bloom in Harbin. [Photo/people.cn]