Making art from ice takes innovation
Updated : 2023-03-24
By ( chinadaily.com.cn )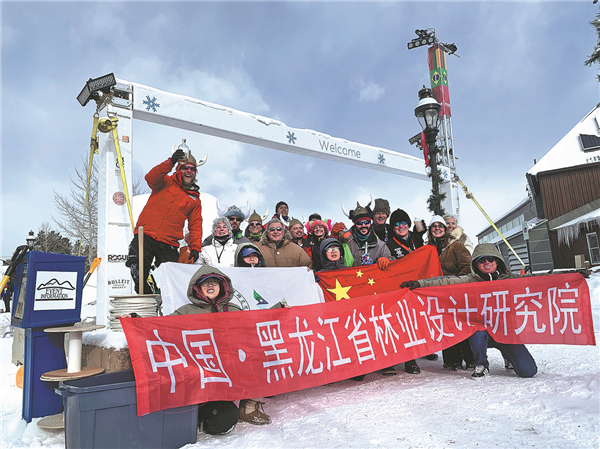 Wang Haifeng (front) and her team participate in an ice sculpture competition in the United States in 2019. [Photo provided to China Daily]
As the temperature rises with the coming of spring, the ice in Heilongjiang province is beginning to melt.
But Wang Haifeng is already looking forward to another winter when people will be able to see one of the country's most spectacular sights, the province's ice and snow sculptures.
"In most parts of China, it's not cold enough to make snow or ice sculptures outdoors," said the 35-year-old head of the model worker innovation studio founded in her name at the Heilongjiang Provincial Forestry Design and Research Institute. "But in Heilongjiang, frozen rivers are a source of large, good quality ice blocks, and the cold weather brings plentiful snow."
The province is iced over for more than a third of the year, which may not suit everyone who lives there, but is perfect for Wang, who considers making ice and snow sculptures an important part of her life.
"As a Harbin native, I have been fascinated by the ice and snow sculptures along the roadsides and in the parks since I was a child," she said. "After being admitted to the department of art design at the Harbin Institute of Technology in 2008, I got the chance to make some of these unique artworks."
In 2010, Wang began to participate in ice sculpting competitions at home and abroad, winning honors at competitions in China, Russia, the United States and Canada.
After earning her master's in design art from Harbin Normal University in 2017, she became the director of the newly founded office of ice and snow tourism planning and design at the Heilongjiang Provincial Forestry Design and Research Institute.
The office, initially made up of six members, engaged in different professions such as architecture, design and electrical engineering. It was founded to pursue cultural innovation and scientific research, launch competitions and engage in landscape planning and design related to ice and snow.
"Taking full advantage of our team and following an environmentally friendly approach as our basis, we are endeavoring to create a unique culture of ice and snow and promote the development of ice and snow science innovation, to achieve the sustainable development of the ice and snow economy," she said. "The experience we gain from competing also helps us create better projects."
In December 2020, Wang was awarded the title of "Craftsman of Heilongjiang", and the office was officially renamed the Wang Haifeng Model Worker Innovation Studio.
In April last year, she was chosen to be a delegate to the 13th Heilongjiang Provincial Party Congress.
"As a representative of the ice and snow sector, I hope to speak up and convey our message to the public," she said. "It is a good opportunity, as well as my responsibility."
In recent years, Wang and her team have made numerous outdoor sculptures in the province, as well as indoor sculptures in Beijing and Tianjin.
Very few women do the job, which requires a reasonable amount of physical strength.
"Working outdoors in the northeastern winter is really a challenge," she said. "We often work for 10 hours a day, but I enjoy every minute."
Sculptors have to be careful to protect themselves, especially as they navigate ice blocks several meters high carrying carving tools.
While making the sculptures, Wang combines high technology with art.
In 2019, she and her team conducted calculations of the snow volume in Yichun city by using unmanned aerial vehicle surveillance technology for the first time in China.
In 2021, she suggested making handles for sculptures using a new kind of straw composite material developed by Huizhou University, and after repeated experiments, they finally succeeded.
Tools they created have obtained patents at the national level and are being mass-produced, making outstanding contributions to the improvement of snow and ice tools available in the province.
"As the leader in the ice and snow sector, Heilongjiang has a long history and deep culture of ice and snow," she said. "Now that we're faced with fierce competition, we should get together to improve innovation and promote the development of the ice and snow sector in our province."